America needs to wake up and hear students knocking on doors of higher education

January 14, 2013 03:49 pm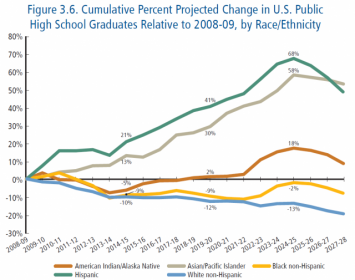 "You can call this a wake up call, but I've been sleepless for a while," said Excelencia in Education's Co-Founder and Vice President for Policy and Research Deborah Santiago last Thursday at the National Press Club.
The wake up call she was describing was the Western Interstate Commission for Higher Education's (WICHE) newly released report, Knocking on the College Door: Projections of High School Graduates 8th Edition. The report, released in conjunction with ACT and the College Board, projects high school graduates, by race/ethnicity and region of the country, through 2027-28, and its projections and their serious implications for education in the United States should rouse even the deepest sleeping policymakers.
The report reveals that by 2019-20, the non-White population of public high school graduates will be 45, compared to 38 percent in the class of 2009. By 2027-28, the majority of graduates will still be White but only by the barest of margins. Projections show by 2027-28, there will be 68% more Hispanic and 58% more Asian/Pacific Islander graduates than there were in 2008-09. American Indian and Alaska Native graduates are projected to see a more modest increase of 18% by that year. Black non-Hispanic and White graduates are projected to decline from 2008-09 figures by 2 and 13 percent, respectively.
What this tells us is that the face of the American high school graduate is going to continue to change, and, while sleeping eyes may have missed it, as Ms. Santiago referenced, the country's school population has already changed significantly. For example, in 22 states public school enrollments are already comprised of 40 percent or more of Students of Color or Native students, as noted in the Alliance's report Inseparable Imperatives.
Brian Prescott, co-author of Knocking at the College Door and WICHE's Director of Policy Research, presented the report with a series of charts and graphs that brought the upcoming demographic changes into focus. One of his myriad charts describes college completion rates, by race, of both 45-54 and 25-34 year olds. Although completion patterns were extremely similar for different generations of Black, Hispanic, and Native Americans, the younger generation of White students outpaced their elders by a wide margin. Prescott noted that this pattern suggests that current college completion gaps between Whites and other racial and ethnic groups are likely to persist if nothing changes for current and future classes of students.
The achievement and completion gaps between white students and students of color/Native students are a serious concern. As the Alliance has notes in Inseparable Imperatives, a national economy that is two-thirds consumer driven cannot afford to underserve a larger and increasingly larger (as evidenced by Knocking) percentage of students and graduates. The students who will soon comprise closer and closer to half of the nation's graduates are unfortunately those that the education system fails at much higher rates. Although Prescott mourned that "the social justice argument [for doing more for these populations of students] falls short with policymakers today," the economic argument is one that cannot and must not be denied.
Jane Wellman, Executive Director of the National Association of System Heads, and Joyce Smith, the CEO of the National Association for College Admission Counseling, joined Santiago and Prescott on a panel moderated by David Longanecker, the President of WICHE. The panelists, and the panel as a whole, focused on the need for students to attain a postsecondary education.
Wellman emphasized that institutions of higher learning (IHEs) must do more to counsel students through the college-going process, not just with financial aid, but through everything related to postsecondary education. Smith focused on WICHE's finding, pointing out that "college readiness, access, and preparedness is a core piece of this report."  The Alliance couldn't agree more and has addressed these issues in two recent reports, A System in Need of Repair and Repairing a Broken System.
Policymakers and members of the public who continue to sleep on the need to do more for Students of Color and Native students and get them to graduation, from both high school and college, do so at our nation's collective peril and must wake up before we have a nightmare of both equity and the economy on our hands.
Bill DeBaun is a policy and advocacy associate at the Alliance for Excellent Education.
Categories:
Uncategorized