Alberta: Great to Greater?

January 28, 2014 12:35 pm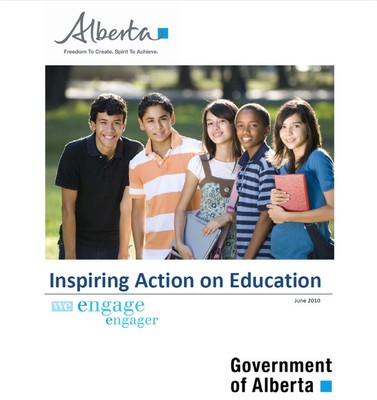 By all rights, the province of Alberta, Canada, ought to be able to rest on its educational laurels. Its students have consistently been among the top performers in the world; on the 2012 Programme for International Student Assessment (PISA), Alberta's fifteen-year-olds outperformed all but those in five other systems in reading and all but those in six other systems in science. (The province has slipped in mathematics.)
Yet Albertans are now engaged in a major effort to redesign their education system. They are shifting to a learner-centered and competency-based system, one that uses a broad and varied set of assessments of student learning. The Ministry intends to allow greater flexibility in curriculum and the use of time, and to engage community resources to expand learning opportunities for students.
Provincial leaders embarked on this effort in 2009, and it is still a work in progress. I had the opportunity recently to visit Alberta and meet with officials from the Ministry, from the teachers' association, from local districts, and from schools, to learn what they are doing. I was interested to see what lessons the U.S. could apply as it undergoes an overhaul of its education system.
The Alberta reform, known as Inspiring Education, stemmed from a single question: what will it mean to be an educated Albertan in 2030, the year a child born in 2009 comes of age? After an extensive engagement process, the leaders came up with their answer— "the three Es": engaged thinkers, ethical citizens, and an entrepreneurial spirit. The reforms now under way are intended to enable all students to attain those outcomes.
One thing that struck all of us on the visit was the remarkable unity in support of this vision. We saw none of the partisan divisions and acrimony that accompanies reform in the United States. Of course, the reforms in Alberta are still aspirations, and disagreements could emerge once the plans get more concrete. But for now, the players are singing out of the same hymnbook.
What accounts for Alberta's success? My visit was short, and I did not see everything, but a few themes emerged. One is the remarkable stability, and patience, of reformers in Alberta. The Ministry began the reform process four years ago and they are not rushing to put it in place. They are creating pilot projects, soliciting ideas about curriculum and assessment, and building public support. In part this stability might reflect the province's current level of success—there is no urgency for change. But it also reflects the stability of the government: the Progressive Conservative party has governed Alberta for forty years. There has been no lurching from reform to reform, as is often the case in the United States.
Second, there is a substantial amount of trust among the education groups in Alberta. All of the groups we spoke with said they feel that they are at the table and are heard when decisions are made.
Third, Alberta's education policies appear thoughtful, and judging by the results, successful. As Michael Fullan, the Canadian scholar who has advised the Alberta government and helped organize our trip, put it, Alberta "got accountability right—or at least they didn't get it wrong." Schools in Alberta are clearly accountable for results. But they do not consider the system punitive, and low-performing schools receive support, not blame.
While Alberta has much to offer and learn from, our visit did raise some questions. One was how ambitious their reforms will turn out to be. For example, the province has created a pilot program to allow a handful of schools flexibility in the use of time. But the examples we saw were relatively modest; one school created a single hour a week for an optional enrichment and remedial period for students.
Another concerned equity. Like many European countries, Alberta has common high expectations for students through early adolescence, but then allows students to choose their own path in upper secondary school. In Alberta, the break point is at grade 10. This means that, in high schools, students can choose courses and exams that lead to university, or courses and exams that lead to career training. The tracks are not rigid, and students can move from one to the other, although relatively few apparently do. But the system raises questions about whether the province is providing equitable opportunities to learn for all students.
Despite these concerns, Alberta offers ample food for though to its neighbor to the south. It deserves a spot on the edu-tourist itinerary.
Robert Rothman is a senior fellow at the Alliance for Excellent Education.
Categories:
Uncategorized