Afternoon Announcements: Obama Announces High School Competition in SOTU; Alliance Issues Report on ESEA Waivers

February 13, 2013 08:31 pm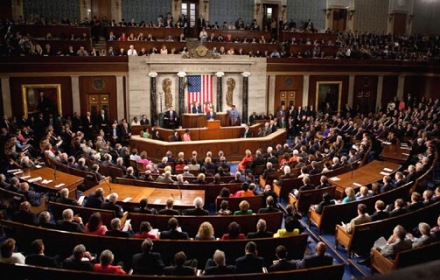 The big news this morning is the high school competition President Obama announced during last night's State of the Union address. The president said the competition will "redesign America's high schools so they better equip graduates for the demands of a high-tech economy." Obama didn't offer many details, but Alliance President Bob Wise thinks the competition has "great potential."
In a statement, Wise said, "If the nation is serious about the high school dropout crisis, more must be done to engage students and make learning relevant. The president's proposal appears to do both." Read the complete statement.
Education Week's Politics K-12 blog has more details on the president's other education proposals, including expanded access to preschool and tying federal college financial aid in part to student outcomes—something the Alliance advocated for in these two recent reports: Repairing a Broken System: Fixing Federal Student Aid and A System in Need of Repair: An Examination of Federal Student Aid for Postsecondary Education.
Here are a few other articles on the education proposals in the State of the Union address:
State Of The Union Education Proposals Focus On Nation's Youngest, Oldest Students: Huffington Post
Obama proposal reflects shift in views on early childhood education: The Washington Post
Four Reasons Pre-K Faces An Uphill Climb: EduWonk
New College Scorecard: Will Students Use It?: Higher Ed Watch
President Obama's Bold Plan To Reshape American Higher Education: Higher Ed Watch
The other big news from yesterday was the Alliance's new report on waivers granted to states under the Elementary and Secondary Education Act (ESEA), currently known as No Child Left Behind. The key takeaway from the report is that recent progress in holding schools accountable for how many students they graduate from high school—the ultimate goal of K–12 education—may be slowed in some states based on ESEA waivers recently granted. The report raises potential four potential problems based on the Alliance's review of approved waiver plans submitted by thirty-four states and the District of Columbia. Read the Associated Press article on the report, the Alliance's press release , and download the report, The Effect of ESEA Waiver Plans on High School Graduation Rate Accountability.
Writing for Bloomberg, Peter Orszag, former director of the Office of Management and Budget in the Obama administration, says more college graduates can equal faster economic growth. That's why, he says, the federal government "needs to do more to help Americans earn college degrees."
In Kentucky, the Associated Press reports that the Kentucky House Committee on Education passed a bill increasing the high school dropout age from sixteen to eighteen, something President Obama pushed all states to do in last year's State of the Union address.
Categories:
Uncategorized