Afternoon Announcements: More schools follow "BYOD" policies in efforts to boost digital education for students

September 15, 2014 03:35 pm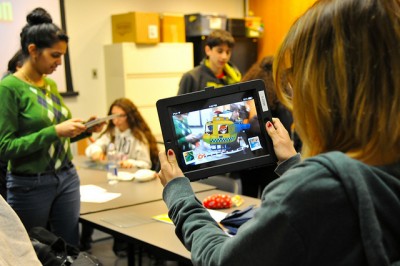 A recent debate sponsored by the organization Intelligence Squared U.S., tackle the growing debate over the Common Core State Standards. Check out the dialogue from the debate, "Embrace The Common Core," which featured Carmel Martin, former assistant secretary of education for planning, evaluation, and policy development at the U.S. Department of Education, and Mike Petrilli, president of the Thomas B. Fordham Institute.
As school districts adopt curriculum and create lesson plans to meet Common Core State Standards, educators are moving beyond the strict memorization of multiplication and addition tables to ways aimed at helping students conceptualize math problems and how to adopt them to real-life situations. Green Bay Press Gazette
The idea of allowing students to use their own technology in schools to enhance academic instruction has increased in a number of school systems, including those in Fairfax and Prince William counties in Virginia, as educators look for ways to boost student tech use. The Washington Post
While you're reading that, be sure to check out the Alliance's latest report, Using Technology to Support At-Risk Students' Learning, which considers how technology can close achievement gaps and improve learning outcomes for at-risk students.
African-American elementary students in California were chronically truant at nearly four times the rate of all students during the last school year, according to a state report by the California attorney general's office released Friday, that said poverty and suspensions were contributing factors.  The report is the first time the data has been broken down according to race and income levels. San Jose Mercury News
As schools move towards more technology, concerns over student data are on the rise from parents and educators. Now, California is poised to become the first state to comprehensively restrict how such information is exploited via new laws passed by its Legislatures. The New York Times
For most teachers and educators the Common Core State Standards have been quietly transforming classroom instruction for years. And for textbook publishers and other vendors, the new standards add up to new business and evolving education products. The Hechinger Report
Roughly 1 in 7 students who failed the most recent Algebra 1 final exam in Montgomery County, MD — a test that produced high failure rates and led to a mass grade recalculation — attended special summer reteaching sessions, according to newly released schools data. Another group retook the course. The Washington Post
When it comes to classrooms today, students want more than the lectures and quiet classrooms of the past. They want technology to use as learning tools, they want to collaborate, and they want project-based learning that is relevant to their education and the real world. eSchoolNews
A school from scratch: The challenges of starting a nontraditional school that promotes entrepreneurship through technology and student-developed projects for its student body. The Hechinger Report
More and more often, kids have access to tablet computers–They share their parents' devices, have their own, or their school hands them out. Now more and more parents – and teachers – are hoping that tablets could be a tool to help kids learn to read. Marketplace
Rapper Nicki Minaj posted on Twitter last Thursday, where she has 18.1 million followers, that the principal of her alma mater, Fiorello H. LaGuardia High School of Music and Art and the Performing Arts, had turned down her offer to address students at the Manhattan school. The New York Times
Categories:
Uncategorized