Afternoon Announcements: Making Poorly-Performing High Schools a Priority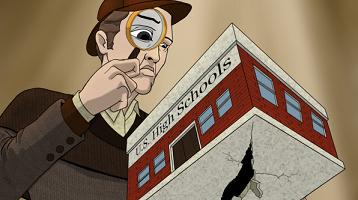 Fifty years ago, President Lyndon B. Johnson signed the Elementary and Secondary Education Act (ESEA) of 1965, representing a major commitment by the federal government to "quality and equality" in educating young people. While Secretary of Education Arne Duncan continues to advocate for a rewrite that ensures opportunity for every child and preserves accountability systems, the U.S. Senate's proposed bipartisan bill has attempted to update a long out of date version of the nation's governing education law.
With the Elementary and Secondary Education Act (ESEA) pending before the U.S. Congress, A new report released this week from the Alliance for Excellent Education calls attention to high schools around the nation with graduation rates of 67 percent or less, and urges the federal government to make sure those schools have the resources to do better. Tampa Bay Times
The report calls for federal intervention in more public high schools with low graduation rates, including 11 percent of Louisiana's high schools, which failed to graduate at least one third of their students on time in 2012. The Time Picayune
The United States Department of Education has released its Ed Tech Developer's Guide: A Primer for Developers, Startups and Entrepreneurs, a resource that stresses the importance of working with educators when introducing digital learning to schools.
The $1.15 billion federal after-school funding program was not restored in the widely anticipated bipartisan agreement to reauthorize the Elementary and Secondary Education Act (ESEA) released Tuesday afternoon. Education Week
The landscape of classroom learning is shifting, and with it, districts, schools and teachers are learning new pedagogy to support a 21st century education through digital learning. Center for Digital Education
Students in 29 states are taking the Common Core tests for the first time this spring. A few years ago, one school in Washington, D.C., changed how it prepares for standardized tests, adopting home visits, pep rallies and new curricula to give students a boost. PBS NewsHour
The Colorado State Board of Education is holding a study session Thursday with four school districts to determine how the state will eventually respond to and attempt to remedy chronic low performance at about 30 schools. Chalkbeat CO
For nearly two years, Howard County school district in Maryland has conducted a districtwide initiative designed to highlight the personality strengths of students and teachers. The Huffington Post
One Wisconsin school is putting the focus on personalized learning, student choice, and open learning spaces while doing away with traditional grade levels. eSchoolNews
Students who attend the low-performing schools at the heart of Mayor Bill de Blasio's school turnaround initiative are twice as likely to have a low-rated teacher as their peers in an average city school, according to a Chalkbeat analysis.
This fall, McGraw-Hill Education will launch new technology in conjunction with Microsoft that will allow educators to build their own "compound learning objects" that can be adapted to individual classes or even students. THE Journal
Categories:
Uncategorized