Afternoon Announcements: July 13, 2012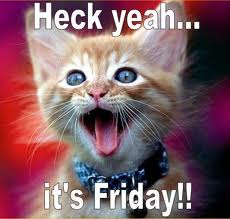 It's Friday! Hooray! Please accept both our afternoon announcements and our wishes for a fantastic weekend. We'll see you Monday!
The Washington Post leads off today with a story on the American Civil Liberties Union's lawsuit against the state of Michigan, which alleges that the state is violating the "right to learn" of children in the Highland Park School District. The suit says, "hundreds of students in the Highland Park School District are functionally illiterate," according to the article. This sets up an interesting legal battle about education as a right for students.
The U.S. Department of Education says that waivers which exempt states from certain parts of the No Child Left Behind Act will not waive the states' responsibilities to report student achievement data. Education Week has the scoop on this important story. The article notes, "All states, both waived and unwaived, must report the number and percentage of students in each subgroup, how many pass the reading/language arts and mathematics tests, the number who graduate high school with a standard diploma, and so on."
The Associated Press reports via The Huffington Post on the on-going debate between year-round schools and those with traditional calendars. According to the article, "Research on whether learning improves in year-round schools is mixed, with some year-round schools reporting gains and others finding that kids on traditional schedules do better. Esther Fusco, a professor at Hofstra University's School of Education, Health and Human Services, says that overall, 'research suggests that students in high-needs districts and those who have disabilities do better in year-round learning situations. This is logical because these students do not have the down time that occurs over the summer. But the results are not very significant. I have not seen any study that shows students greatly improve.'"
The last announcement for the day comes from The Orlando Sentinel, which shares the news that new academic standards in Florida have lowered grades for school across the state. The school grades released yesterday by the Florida Department of Education showed that "the number of D and F schools rose sharply, and many other schools slipped a grade from last year as well."
Have a great weekend, everyone!
Categories:
Uncategorized