Afternoon Announcements: Former Governor asks opponents to consider the benefits of the Common Core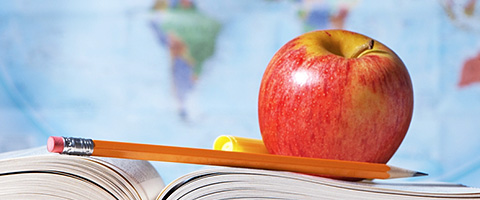 It's the first day of school for many K-12 and college and university students across the country. Here's to a great academic year!
---
Conservatives should "stop the fight" over Common Core and instead consider the benefits that the academic standards offer students in struggling schools, former Arkansas Governor Mike Huckabee said Friday, adding that regardless of political leanings, "We want our students to achieve to the highest level they're capable." Associated Press
While you're reading that, be sure to check out the latest blog from our Core of the Matters series, in which Dr. Kent McGuire, president and chief executive officer of the Southern Education Foundation and a member of the Alliance for Excellent Education's Board of Directors, discusses how the vulnerable learners stand to win with the Common Core.
Jacqueline King, director of higher education collaboration for the Smarter Balanced Assessment Consortium, discusses the roll colleges and universities play in the K-12 implementation of the Common Core State Standards. The Hechinger Report
While you're reading that, check out our spring webinar, Getting Ready for the Assessment Consortia Field Tests, featuring King and Jeff Nelhaus, Director of Policy, Research, and Design, Partnership for Assessment of Readiness for College and Careers (PARCC)
Since the beginning of the year, nearly 40,000 Central American minors detained after illegally crossing the U.S.-Mexico border have been reunited with their parents or relatives in the U.S. About 6,000 of them are in Virginia, Maryland and the District of Columbia. Hundreds of them will be attending local schools while they wait for their immigration cases to conclude, and school systems are gearing up to address the educational and emotional needs of these often traumatized kids. WAMU
The State Education Department sent final test-score data to school districts on Friday, meaning the city has what it needs to calculate performance ratings for teachers and principals for the first time using its new evaluation system. ChalkBeat NY
On Monday, the American Academy of Pediatrics released a policy statement recommending that middle and high schools delay the start of class until after 8:30 a.m. About 40 percent of high schools in the country start earlier than 8 a.m., a phenomenon that has negative effects on teens' safety, well-being and education, according to Dr. Judith Owens, the director of sleep medicine at Children's National Medical Center in Washington D.C. The Huffington Post
Some hiring managers, a few policymakers, and a handful of community colleges are looking to incorporate Germany's dual-system of education and apprenticeship style training in efforts to boost career readiness skills for US students. The Hechinger Report
A collaboration between top L.A. Unified officials and those from tech giant Apple Inc. and Pearson, detailed in public records, underscores findings from an internal school district report, which warned that officials' actions could have created an impression of unfairness in the bidding. The LA Times
A new report reveals that 59 percent of students ranging from K-12 to graduate school who do not know how to code would like to learn, with 61 percent of students saying they believe coding skills will give them a competitive advantage in the job hunt. eSchoolNews
With nearly 3.5 million students using iPads since the device was released four years ago, it's not hard to understand why the learning possibilities for tablets seem endless. There's no one way to use tablets in the classroom. Here are a few creative uses from today's top tablet educators. The Journal
Back to School spells Advanced Placement classes for many high school students. With the proper level of commitment and effort, any student can succeed at this more challenging curriculum. Here are five keys to succeeding in these courses. College Admissions Playbook: US News
Categories:
Uncategorized