Afternoon Announcements: Duncan Says Congress Has "Further To Go" With ESEA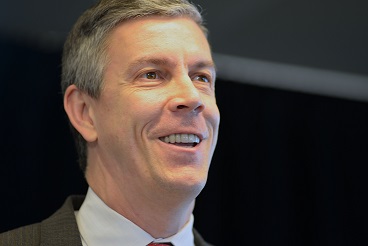 When most people think about the Elementary and Secondary Education Act (ESEA), or its latest rewrite No Child Left Behind (NCLB) they think of two things: former President George W. Bush, and standardized testing. But the politics, policy, and history of the law are far more complicated than that.
As we celebrate the 50th anniversary of ESEA, Education Secretary Arne Duncan points to Congress, saying legislators need to craft a modern version of the law that stays true to the it's intent: to create equal educational opportunity for all children. Duncan call Senate's proposed bipartisan bill a "Good First Step," but stress in a blogpost that there is much work to be done for the nation's youth.
Responding to a backlash about the continued use of high-stakes standardized tests, the Florida Legislature on Thursday passed significant changes to the assessment system. Associated Press
Tennessee's teacher evaluation system is more accurate than ever in measuring teacher quality, according to a report released Thursday by the state Department of Education. Chalkbeat TN
A new study from Wainhouse Research finds that a large minority, 39 percent, of education stakeholders say their schools should be doing a better job of preparing students for the workforce. THE Journal
Two major and significantly different testing bills were approved late Thursday evening by the Colorado Senate Education Committee. Chalkbeat CO
The West Virginia Board of Education is asking for a public review of the state's K-12 academic standards. WRAL
With the U.S. special education population having grown by 73 percent in the last three decades, school leaders, teachers and parents are looking for new ways to better support the 6.4 million students who need special education services. eSchoolNews
Categories:
Uncategorized