Afternoon Announcements: Common Core changing the way students read in school

November 12, 2014 01:45 pm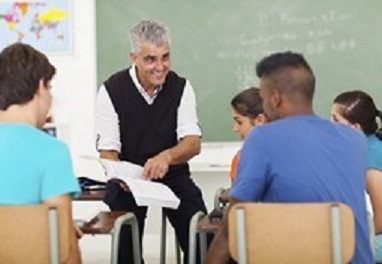 The Common Core State Standards are changing what many kids read in school. Teachers and districts still have great latitude when it comes to the "how" of reading instruction, but… The Core standards explicitly require students to read "complex" material, and the fact is, many kids simply weren't doing that before the Core. So what were they doing? NPR
President Obama thinks there should be no gatekeepers between you and the Internet. Adding his voice to the 3.9 million comments submitted to the Federal Communications Commission (FCC) in the past six months, the president urged the agency to "implement the strongest possible rules to protect net neutrality," including a ban on prioritization or blockage of service to different websites based on payment or other reasons. EdSurge
Running a school on $160. That was the total discretionary budget handed to the new principal of Anna Lane Lingelbach Elementary, a public school in Philadelphia's Germantown. That's all he'd have to pay for a whole year's books, supplies, staff training, after-school activities, and incidentals — small but important items like postage and pizza parties. But a newly elected Governor could bring the change that could finally address years of Philadelphia School District cuts. Philly.com
As states race to implement the Common Core academic standards, companies are fighting for a slice of the accompanying testing market, expected to be worth billions of dollars in coming years. The Wall Street Journal
New York City's public school district is gearing up to scrap a controversial policy forbidding its 1.1 million students from having cellphones on campus. It turns out some of the poorest kids in the city are the ones who will notice the change most. The Atlantic
Digital access and digital equity continue to present a challenge to educators. Meeting that challenge is more important than ever, because, as many stakeholders say, digital equity is about more than access to devices and strong internet connections–it's about social justice and fair opportunity. eSchoolNews
The new leader of Boys and Girls High School stood by his decision to encourage struggling students to transfer out of the school during a recent meeting with parents. Boys and Girls students who are far behind in credits or otherwise unlikely to graduate this year have been urged to move to other schools since Principal Michael Wiltshire took over last month. Chalkbeat NY
In order to help its many low-income families, Mississippi must focus on aiding the family as a whole and take a "two-generation approach" to ending poverty, according to the Annie E. Casey Foundation KIDS COUNT report released today. More than half the state's children are members of low-income families, a status that has far-reaching consequences beyond poor housing and poor schools.
A Tulane University institute that studies changes in public education in New Orleans after Hurricane Katrina announced the resignation of its executive director Monday, weeks after retracting a study on the city's public high schools. The Advocate
As schools send home more iPads, Chromebooks, and other devices with students, districts across the region are dealing with more than just loading apps, training teachers, and ensuring students get the most out of the technology. They're also grappling with an inevitable question: Who pays when they break? eSchoolNews
Boosting graduation rates of community college students who need remedial coursework has been a long-standing challenge, but a team of community college professors are gaining followers to their efforts to re-envision the remedial coursework and help students get through faster. EdSource
Majoring in education is an easy route to high college grades and graduation, says a new report from the National Council on Teacher Quality released Wednesday. The report, "Training Our Future Teachers: Easy A's and What's Behind Them," calls for higher standards in teacher preparation programs.
Categories:
Uncategorized