Afternoon Announcements: California Teachers Association Launches Teacher Training in the Common Core

December 02, 2014 01:15 pm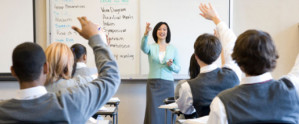 With $6.6 million in support from foundations, the California Teachers Association is teaming up with two Stanford University-affiliated organizations to provide training in the Common Core and the state's new science standards that aims to reach tens of thousands of California teachers in three years.
The vast majority of students at American public colleges do not graduate on time, according to a new report from Complete College America, a nonprofit group based in Indianapolis. The New York Times
Roughly 30,000 students across six states will begin taking The Partnership for Assessment of Readiness for College and Careers (PARCC) assessment this month.  According to a recent report, students who piloted the test in spring reacted positively to the look and feel of both the computer-based (CBT) and written versions of the test.
Former Florida Gov. Jeb Bush on Monday said he is nearing a decision on whether to run for president and in the meantime has laid out a governing blueprint that, among other issues, reiterates his support for higher academic standards such as the Common Core.  The Wall Street Journal
After five years of work by educators and millions of dollars spent, Lt. Gov. Tate Reeves on Monday said Mississippi should scrap Common Core education standards and come up with its own. But at least one lawmaker says the move could cost the state $100 million or more and take years of work.
Thousands of computers and iPads that belong in New York City schools are missing or unused, and the city's method of keeping track of technology is inadequate, according to a new audit from Comptroller Scott Stringer's office. Chalkbeat NY
Louisiana educators said they were upset, discouraged and disheartened at U.S. Sen. David Vitter's Monday announcement that he no longer supports the Common Core standards, with some saying they believe Vitter fears the change. The Advertiser
The Mexican-American Studies curriculum in Tucson public schools banned by the conservative-dominated Arizona legislature helped boost student achievement and offers a promising approach to bridge the achievement gap between Hispanic and white students, a new study says. The Huffington Post
The North Dakota's first lady joined educators and lawmakers Monday to unveil legislation that would require high school students to pass a 100-question civics test starting in 2016. Associated Press
A committee examining Virginia's state standardized testing has released its first report, recommending changes to the state's testing system, which has long been criticized as being too onerous and carrying too much weight. The Washington Post
Teachers at 14 Shelby County Schools in Memphis, TN will receive $2,000 to $3,000 in bonuses for helping students meet or exceed achievement goals on state tests during the 2013-14 school year. Chalkbeat TN
Categories:
Uncategorized