Afternoon Announcements: California Higher Education Systems Pledge Common-Core Support

September 05, 2014 12:36 pm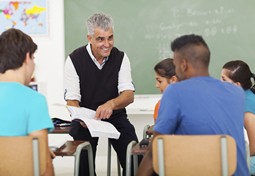 The Common Core is a work in progress. There's an adjustment period to anything new, and teachers, students and parents will all experience growing pains as they adjust to changing standards. But the outcomes of college and career readiness make it working out the kinks. In the latest blog entry from our Core of the Matter series, Tom Murray, the Alliance's State and District Digital Learning Policy and Advocacy Director, reflects on the tools and technology used to prepare students in past decades compared to the incredible work he's seeing today as students learn and why the road to preparing student for the future runs through the Common Core.
The leaders of the four branches of California's public and private higher education establishment have proclaimed their support of the Common Core State Standards and Smarter Balanced tests, saying that they are adjusting admission requirements and teacher-preparation programs to line up with the new expectations. Education Week
The expulsion rate for in the past school year was about half of what it was two years before, and the rate of out-of-school suspensions decreased by about 20 percent in one year, according to a report released Thursday. The Washington Post
GEMS Education Solutions, an education consulting firm, released its "Efficiency Index" and an accompanying report on Thursday, which attempts to rank the return on investment for 30 different nations' education budgets by "treating the educational system as if it were a company which attempts to obtain an output." Click the link in the text to see were countries rank.
Eva Moskowitz, who runs Success Academy Charter Schools in New York, feels the failure that pervades so much of public education has little to do with the blighted backgrounds of the children and everything to do with the adults who sit at the front of their classrooms. Read how this educator is reshaping the New York school system. The New York Times Magazine
A new survey from career website Glassdoor ranks Costco number one among companies with 40 or more reviews for "career opportunities" by employees whose highest level of education was high school. The Huffington Post
New Jersey parents and students boycotted the first day of school in Newark Thursday, protesting against the "One Newark" plan, which gives students the option of attending a school besides the one in their local neighborhood. The plan is currently being investigated the U.S. Department of Education over claims that it has a disproportionally negative impact on minority students. The Huffington Post
A recent study has found that the bulk of the contract bids related to Common Core work put out in 2012 and 2013 were generated by districts in 11 of the 45 states that were committed to implementation of the state standards. The Journal
Though Mayor Bill de Blasio and New York Schools Chancellor Carmen Fariña said Thursday there is a coherent plan in place for struggling schools. The city has corralled several of those schools into a group and begun to develop a scheme for turning them around, but principals from some of these schools said that they came away from an introductory meeting unsure about what, exactly, the city is planning to do. ChalkBeat NY
Categories:
Uncategorized