Afternoon Annoucements: Secretary Duncan and First Lady stop in Atlanta for Dept. of Education's "Partners in Progress" tour

September 09, 2014 12:37 pm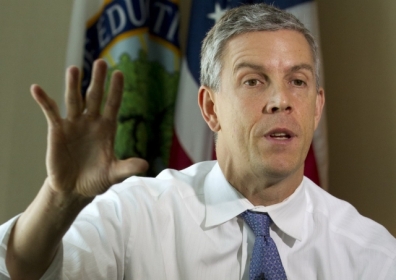 The U.S. Department of Education's "Partners in Progress" back-to-school bus tour kicked off Monday with Secretary of Education Arne Duncan visiting Spelman College, America's first historically black college for women, in Atlanta. Duncan was joined by Michelle Obama at nearby Booker T. Washington High School, where the First Lady urged African American teenagers in a tough Atlanta neighborhood to push ahead with their studies and make it to college, whatever hardships they face on the way.
A number of elite colleges in the U.S. have changed policies and made compromises elsewhere to recruit the kind of talented low-income students who have traditionally excelled in high school but not gone to top colleges, recruiting a more economically diverse student body. The UpShot – The New York Times
A survey conducted by Harris Poll for Pearson found 90 percent of students said tablets will change the way they learn and 89 percent said the devices would make learning more fun. The survey also found 79 percent of student respondents said they felt the devices would help them do better in class. Check out the poll of some 2,252 students in grades 4-12 to see more results on their feelings towards mobile learning.  Pearson Student Mobile Device Survey 2014
Common Core is not a curriculum, and it's all right that the federal Education Department offered millions of dollars for states that adopt it. Those are the conclusions of a new report from the Congressional Research Service, and they would appear to contradict Gov. Bobby Jindal's claims in a federal lawsuit to be heard in Baton Rouge federal court Nov. 20. The Times Picayune
The state of Indiana was the first to reject the Common Core State Standards in its schools and debate what all children must learn at all grade levels continues as officials scramble to prepare students for new standards and tests. ChalkBeat Indiana
Officials in D.C. are looking for a "Chief Student Advocate" to lead a new effort to help students and their families navigate the school choice process and access educational resources they need. The Washington Post
A study from the University of Washington at Seattle titled "Getting Under the Hood: How and for Whom Does Increasing Course Structure Work?" looked at data from six semesters of large science lecture courses at the University of North Carolina at Chapel Hill, and found results that suggest those classes most helped are first-generation and black students.
Whitman Wilcox V attended kindergarten through second grade at a neighborhood public school in the Lower Ninth Ward in New Orleans, LA. Throughout difficult transitions in education, Ward has had solid support from his family and is looking ahead to college and his future. Check out his story as part of NPR Ed's reporting on the dramatic changes in the New Orleans school system. NPR
According to this year's Organisation for Economic Co-operation and Development's annual education report released Tuesday, roughly 40 percent of the developed world's adults have gotten more schooling than their parents. But the number is slipping in some countries, raising concerns that societies will become less inclusive for younger generations. The Huffington Post
Among the challenges schools and teachers face daily is figuring out how to get students into a cognitive state that's conducive to learning. Some research points to technology to tease out that get up and go attitude that often eludes students when the school day begins. Before asking whether technology can induce positive feelings, however, there's the question of whether such feelings are actually beneficial for learning. edSurge
A high school in Northern California is turning used cell phones into new laptops. As the result of a wireless device recycling project, Sprint is donating 65 Dell laptops and funding to allow Internet connectivity to John F. Kennedy High School in Richmond, CA. The Journal
Categories:
Uncategorized