Addressing Disparities in Broadband Access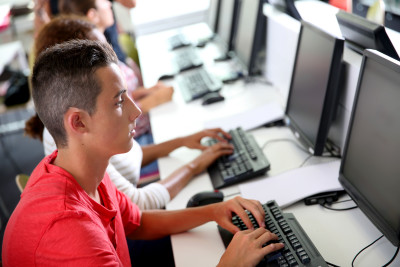 On my first day of teaching in rural Mississippi, I turned on the computer and projector expecting little to go wrong. As students shuffled in, searching for their assigned seats, I realized the internet connection was not working. This was the first but, sadly, not the last time I experienced connectivity issues during my teaching career. More importantly, this problem is not uniquely my own. Throughout the nation, teachers and students struggle with internet connectivity daily. This lack of access to high-quality internet has created a "digital divide" that must be addressed.
Education in the twenty-first century has changed due to technological innovations that have transformed society. Yet traditionally underserved students (students of color, students from low-income families, students with disabilities, and English language learners) are less likely to have high-speed internet access in school and at home, which leads to increasing educational inequities. According to the Federal Communications Commission's (FCC's) 2016 Broadband Report, a significant disparity of broadband access exists between rural communities and urban communities. The FCC finds that 39 percent of rural Americans (23 million people) lack access to high-speed internet while only 4 percent of urban Americans lack the same access. Disparities in access exist along racial and income lines as well. Through an analysis of the 2013 American Community Survey data, the Pew Research Center finds that among households with school-age children, 38.6 percent of African American households with an income below $50,000 and 37.4 percent of Latino households with an income below $50,000 lack high-speed internet connections. These numbers are significantly higher than white and Asian households where 24.6 percent and 15.5 percent of families with an income below $50,000 respectively lack high-speed internet connections.
This lack of connectivity is a major issue because of how rapidly technology has become integrated in a classroom culture. A study conducted by the Hispanic Heritage Foundation, the Family Online Safety Institute, and myCollegeOptions finds that 98.5 percent of students (across all racial/ethnic backgrounds) report using the internet in school, with about half reporting daily use for assignments. Moreover, 31 percent of students report that they are required to use the internet to complete homework assignments outside of school daily. However, the Pew Research Center finds that low-income households are four times more likely to lack broadband connections than middle class or high-income families. A lack of access to adequate internet connectivity means that students without internet access at home must find a place with internet to complete their assignments or else receive an "incomplete" for the assignment. In fact, 42 percent of students report having received a low grade on an assignment because of a lack of internet access.
Programs such as the Schools and Libraries Universal Service Support Program (also known as E-rate) can help. E-rate, administered by the Universal Service Administrative Company (USAC) under the direction of the FCC, provides discounts to schools and libraries to obtain affordable broadband internet access. Discounts range from 20 percent to 90 percent of the cost of services and can help close the gap in access to internet services. Lifeline, also run by the USAC and overseen by the FCC, provides discounts to low-income consumers on phone and internet service. Despite these efforts, millions of students still are impacted by a lack of equitable internet access at home.
Broadband access determines which online content, educational applications, and digital learning services students can use in the classroom. Technology, with its diverse array of information, has opened endless opportunities for students to seek information, remediation, and enrichment through online resources. Students without the capability to access these resources are being given insufficient opportunity to succeed. A report conducted by the Alliance for Excellent Education and the Stanford Center for Opportunity Policy in Education finds integrating technology into instruction impacts high school and college graduation rates, while other research shows a link between technology, achievement, and motivation.
The benefit of these programs is clear, which makes it even more concerning that FCC Chairman Ajit Pai rescinded a report that demonstrated the success of E-rate in expanding internet access to children from low-income families. Additionally, he has taken steps to undercut the implementation of broadband under Lifeline and earlier this year revoked approval of nine companies that were going to provide internet access to low-income communities through Lifeline. For these reasons, it is crucial that all individuals and organizations dedicated to educational equity work together to ensure ongoing support for these programs.
It took nearly a month of teaching before my classroom got a better internet connection. As I began integrating technology, I noticed a staggering change in student engagement and an improvement in classroom management. My students began improving their academic performance because with technology I was able to make my instruction relevant to their lives. Technology should not be a barrier to academic success, but a gateway. My students in Mississippi and all students throughout the country deserve equal access to the technological transformations of the twenty-first century.
Shawn Stern is a policy and advocacy intern at the Alliance for Excellent Education.