Additional Department of Education Flexibility Requirements are Intended to Promote Continuous Improvement

September 13, 2013 03:19 pm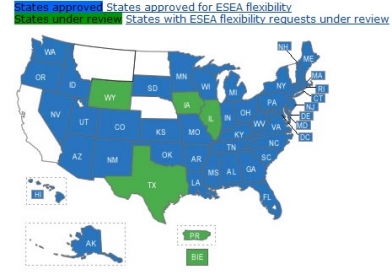 The Department of Education has awarded flexibility from certain provisions of No Child Left Behind to 41 states and the District of Columbia. This month the Department formally begins the process of renewing the first 35 approved flexibility requests and on August 29th, issued guidance for states seeking to extend their waiver through the 2015–2016 school year.
In order to get this extension and continue administering state designed education reforms, states must reaffirm the commitment they made in their initial request to implement college- and career-ready standards and assessments, differentiated accountability systems that focus on closing achievement gap, and new teacher-evaluation systems. In fact, the waiver renewal guidance stipulates that by October 2015, states must use teacher-evaluation data to ensure that low-income and students and students of color are not taught by ineffective teachers at a higher rate than their peers. To support this effort, states and districts need to spend Title II professional development funds on evidence-based programs and link them to new college- and career-ready standards.
The renewal process for flexibility requests also requires a greater focus on district-level accountability for intervening in low-performing schools,  plans for long-term interventions, backup plans for states that may have dropped out of the Common Core State Standards or common-testing consortia, and plans for intervening in schools where subgroups of at-risk students miss performance or graduation-rate targets. Some of the changes come as a result of concerns raised to the Department by outside organizations regarding graduation rate and subgroup accountability within the waivers.
A number of civil rights organizations and other organizations including the Alliance have previously raised concerns that several states are implementing school accountability systems that may result in overlooking low-performing schools or schools with achievement and graduation rate gaps among subgroups. As part of the renewal process, the Department will analyze data from states to make sure the right schools are receiving the necessary supports.  This data will be made publicly available in the fall.
In addition to the concern of overlooking schools with performance and graduation rate gaps, the Alliance submitted recommendations asking the Department to work with states during the renewal process to:
•    Provide direct support to students to ensure successful implementation of college- and career-ready standards, with a focus on students who are the furthest behind;
•    Track postsecondary outcomes based on the type of diploma awarded and ensure all students have equitable access to a rigorous diploma pathway;
•    Fully implement subgroup graduation rate accountability as articulated in the Department's revised guidance.
•    Ensure that districts serving schools with high concentrations of ineffective teachers, inexperienced teachers, or teachers teaching outside of their certification area use Title II funding and other resources to increase the placement, rate, and retention of effective (or highly rated), fully licensed, and properly assigned teachers in schools with these high concentrations; and
•    Submit information in an easily accessible format that captures the type of diploma students are receiving, post-secondary enrollment and persistence rates, school title I status, graduation rates and gaps among subgroups, student, achievement and gaps, whether the school is identified by the state for intervention, and the rating received within the state accountability system.
For additional information on the Alliance's waiver recommendations, please click here.
The Alliance will be closely watching the renewal process and whether states are implementing practices that ensure that schools are continuously improving and that all students are provided with the opportunity and support needed to graduate ready for college and career.
Jessica Cardichon is the director of federal advocacy at the Alliance for Excellent Education
Categories:
Uncategorized