About 84 percent of U.S. Students are "Covered" by Common Standards

November 10, 2010 08:37 pm
Currently 40 states plus Washington, DC, have adopted the common core state standards. Using data from the National Center for Education Statistics, the Alliance finds that this represents 83.78 percent of the U.S. student population. The numbers for the U.S. population as a whole, calculated using data from the U.S. Census Bureau American Community Survey, are slightly higher ─ 85.28 percent of the U.S. population is living in a state that has signed up to adopt and implement common standards. Keep in mind that these calculations count Minnesota as an adopting state even though the state only adopted the standards in English-language arts and not in math.
A recent study by the American Institutes for Research finds that the gap in what students are expected to know in each state varies so greatly that the difference in student expectations between the states with the most rigorous assessments and those with the least stringent is twice the size of the national black-white achievement gap. International Benchmarking: State Education Performance Standards examines the "expectations gap" or what students are expected to learn in some states and what students are expected to learn in others.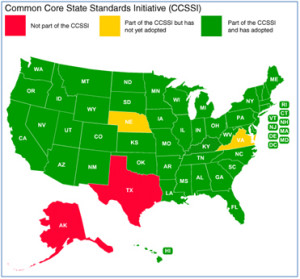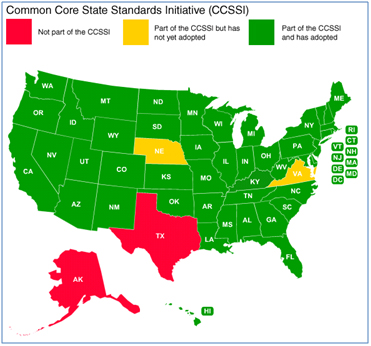 The report focuses on states' "performance standards," or how much a state expects the student to learn in order to be considered proficient in reading and mathematics. Each state's standards are evident in their accountability tests that are required under No Child Left Behind. By comparing these performance standards against two international assessments, the Trends in International Mathematics and Science Study (TIMSS) and the Progress in International Reading Literacy Study (PIRLS), the report finds that the differences in the rigor of the performance standards used across the states are huge. For example, what students are expected to know in order to reach proficiency levels on exams in Massachusetts may be as much as four grade levels above states with the lowest standards.
This study emphasizes the significance of states not only adopting the common standards but also developing common assessments (For more on the development of new assessments, check out the blog post Race to the Top of the Tests). Are you or your children part of the U.S. population not covered by common standards? Click on the map to the left to find out.
Categories:
Uncategorized