A Vision of Tomorrow's Use of Technology in the Classroom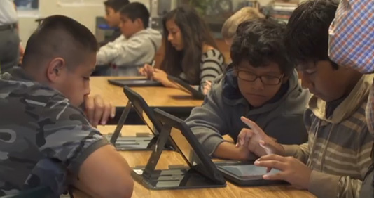 The Main Course, a daily post from the Alliance for Excellent Education, provides an overview of the day's main news story on K–12 education. Make sure to add High School Soup to your RSS feed for all the latest updates and follow the Alliance on Twitter at @All4Ed for more education-related news.
---
The use of technology continues to make its way into the day-to-day stream of classroom learning. K–12 students and teachers are familiarizing themselves with iPads, Chromebooks, apps, and programs.
U.S. Secretary of Education Arne Duncan asked in a recent post for Medium, "What can technology do for tomorrow's children?" Duncan asserts the continued use of technology in the classroom is important to growing student success, and it is critical that the digital divide some schools and school districts face does not keep less-advantaged students from achieving those successes.
Duncan writes, "Technology has the potential to bridge gaps for those who have the least. Simply put, technology can be a powerful tool for equality as well."
Equitable education technology, students and teachers as empowered creators, and sustainable teaching, Duncan says, are all needed "in order for our children not only to flourish in — but also shape — the hyper-connected, high-tech world that awaits them."
Many educators and district leaders are working to achieve this type of digital learning environment. As Future Ready Summits continue this week in Providence, Rhode Island, local districts and superintendents are gaining the knowledge and skills they need to maximize digital learning opportunities in their schools.
Students and teachers are becoming empowered creators—not just consumers—of technology-based learning as Utah's Weber School District works to implement full-scale personalized learning for its 30,000 students. In a piece for School Improvement Network, Dennis Pierce, editor of eSchool Media, wrote about the district's plans to use technology to help with the integration. Pierce notes, however,
"Teachers must learn more than just how to use the technology, and how to change their pedagogy, to support personalized learning…Teachers must learn to give up some control and let students have a larger voice in their own learning."
So, what CAN technology do for tomorrow's children? Greg Toppo, national education and demographics writer at USA Today, said in a Q&A with The Hechinger Report that technology can in fact make learning fun for students. Toppo points to the growing use of educational games in the classroom as one way to engage students and teachers in a virtual learning experience. Nish Sonwalkar, a leading expert in the use of computers in education, would argue that technology has the potential to "transform" U.S. science, technology, engineering, and math (STEM) education, "making various modes of learning available in a single classroom."
Educators continue learning how technology can improve the classroom next week, as Future Ready Summits continue in St. Louis, Missouri. For more information visit futurereadyschools.org.
Categories:
Uncategorized