A collaborative journey in an ever-changing world of technology

January 24, 2013 05:35 pm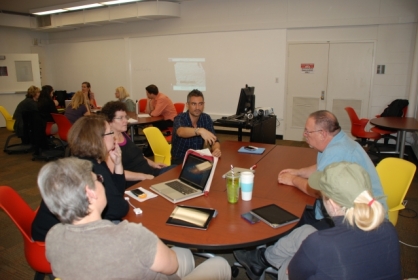 The following guest post is a collaboration of three teacher educators in California. Jill Leafstedt is an associate professor of education at California State University Channel Islands; Jessica Parker is an assistant professor in the Curriculum Studies and Secondary Education Departmetn in the School of Education at Sonoma State University and the author of Teaching Tech Savvy Kids; Penelope Swenson is Coordinator of Curriculum and Instruction in the School of Education at California State University Bakersfield and professor in both Educational Administration and Curriculum and Instruction. 
How does a single university professor prepare teachers to teach students in schools that have yet to be envisioned? How do we prepare teachers to teach students that will one day have jobs that have yet to be imagined? These questions represent a few of the ponderings that brought us together and shine a light on how our journey towards change began. The following post is a reflection on where we, as educators, have been, a bit on where we are now, and hope for where we will end up.
Our journey began as part of a dynamic faculty fellowship program focused on improving the use of technology in the K-12 classroom. During this fellowship program we saw the best of the best. We spoke to the first teachers to use Kahn Academy in the classroom. We listened to visionaries at leading institutions about where they thought education should go, and we heard ideas from people in the private sector about whom they thought they would be hiring and what skills they would need in an employee in five to ten years.
Our small team left the three day program and quickly realized that further collaboration would lead to significant personal growth, as well as impact our thinking and learning about emerging technologies and their relationship to learning. We got excited about applications such as Google Docs, Google Hangout, and YouTube, and we realized we had a unique opportunity to connect, collaborate, and share our experiences and practices. Not only was it apparent that we would lead and follow each other on this journey, but that this journey could lead to significant impacts on learning in the K-12 classroom.
As teacher educators, we represent the southern, central, and northern regions of California, and our varied backgrounds in educational administration, special education, and educational technology both complimented and strengthened our understanding of the state's educational landscape. The opportunity to connect provided us with a greater view of education. Together, we aimed to improve teaching practices within K-12 classrooms and teacher preparation programs through the use of innovative and emerging technologies. We hungout on G+ Hangouts, dreamed up ideas, shared them, and took risks putting them into action.
As we shared stories from the field, we found commonalities across our local experiences. We all had stories of technology pockets in K-12 where the teachers and teacher educators were effectively integrating technology to improve student learning. We also heard stories and saw examples of schools with rich technology resources and professional development opportunities.
Unfortunately, when the excitement of the exceptions faded, we realized that across all of our regions the norm was schools and programs that did not offer educators the time, resources, and training needed to explore new technologies, test out ideas, and share their findings with colleagues.  Our challenge became figuring out how to impact change in these schools.
As with all challenges, resources and support seldom allow for one to find time and incentives for pushing onward. We were lucky in this vein in that we received small amounts of financial support to fund some of our collective ideas and explorations. Essentially, we were allowed to take risks with innovative and emerging technologies and share our discoveries with our small community of practice.
This resulted in informal activities on our campuses, such as faculty technology lunches, technology minutes within departmental meetings, curated tech topics and issues, and biweekly tech tips and tools emails, and more formal classroom and community-based events – such as technology and learning showcases, professional development workshops, and technology infusion projects.
As we continue to analyze our experiences within our small community of practice, we have found essential ingredients for impacting lasting change: time, space, and food.  Time is necessary to investigate emerging technologies. An intellectually and professionally safe space is needed to explore and experiment with the technology. Then more time must be had to share with a small community what worked and what didn't, followed by a return to a safe space to alter what was tried before to improve the outcomes then once again share with colleagues in a safe space.
We learned that when faculty and teachers are interested, given time and provided a safe space to take risks and when failure is rewarded through begin given the opportunity to try again, people adapt their practice to meet the rapidly changing needs of their students.
The following guest post is a collaboration of three teacher educators in California. Jill Leafstedt is an associate professor of education at California State University Channel Islands; Jessica Parker is an assistant professor in the Curriculum Studies and Secondary Education Departmetn in the School of Education at Sonoma State University and the author of Teaching Tech Savvy Kids; Penelope Swenson is Coordinator of Curriculum and Instruction in the School of Education at California State University Bakersfield and professor in both Educational Administration and Curriculum and Instruction