The Every Student Succeeds Act: New Education Law Provides Boost to Nation's High Schools

December 14, 2015 03:42 pm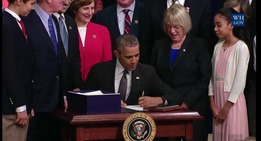 President Obama signed a new education law on December 10 that replaces the No Child Left Behind Act and makes several major changes to federal education policy. The Every Student Succeeds Act (ESSA) shifts a significant amount of responsibility for students' learning outcomes to states while increasing accountability and support for high schools.
"I am pleased that ESSA keeps the nation's foot on the high school graduation rate pedal while also providing states and districts with a great deal of flexibility and responsibility," said Bob Wise, president of the Alliance for Excellent Education. "States and districts will decide how to act, but action must take place. With states in the driver's seat, I look forward to supporting their work to prepare all students for postsecondary education and the workforce."
The new law maintains requirements, such as a common graduation rate calculation and separate reporting of graduation rates for subgroups of students (African American, low-income, etc.), that have helped the nation's high school graduation rate reach an all-time high while reducing the number of dropouts by nearly 30 percent. The bill adds a requirement that states intervene in high schools with graduation rates at or below 67 percent, but it leaves the type of intervention up to states and districts. ESSA also requires school districts to provide support to traditionally underserved students who consistently demonstrate low performance, and it sets aside funds for schools and districts to implement evidence-based interventions.
How Else Does the New Education Law Differ from No Child Left Behind?
Because ESSA maintains NCLB's testing requirements states will still have to test students in reading and math in Grades 3 through 8 and once in high school as well as testing in science once in elementary, middle, and high school. The new law jettisons adequate yearly progress (AYP), which required schools to meet annual benchmarks for achievement in math and reading. States will still have to set goals, but they will have much more flexibility in determining those goals. Schools must still take action when students demonstrate low performance, but actions will be determined locally, not federally, which is a dramatic change from NCLB. And while accountability for high schools under NCLB was based on high school graduation rates and test scores, ESSA requires states to select and use additional measure of school quality such as school climate or access to and success in advanced course work. The decision of whether—and how—to measure teacher effectiveness is left completely to the states.
When Will ESSA's New Requirements Go Into Effect?
In the December 11 edition of Federal Flash, the Alliance' five-minute video series on federal education policy, Phillip Lovell, vice president of advocacy and policy at the Alliance, explains that different provisions within ESSA have different timelines for implementation.
"The accountability provisions will not take effect until the 2017–18 school year," Lovell said. "This provides states with 18 months to transition to the new accountability systems. How heavy a lift this transition will be depends upon how aligned a state's accountability systems is with the requirements under ESSA. Schools currently identified for intervention and support will remain identified until either the State's Title I plan is approved or until the 2017–18 school year. Other provisions take effect sooner. For example, assessment requirements took effect yesterday upon the signing of the bill into law."
"A Christmas Miracle"
Calling it a "Christmas miracle," President Obama praised the new legislation at a December 10 signing ceremony at the White House.
"I want this not just because it's good for the students themselves, not just because it's good for the communities involved, not only because it's good for our economy, but because it really goes to the essence of what we are about as Americans," Obama said. "There's nothing more essential to living up to the ideals of this nation than making sure every child is able to achieve their God-given potential."
For many years, educators and advocates wishing for an end to NCLB received a lump of coal in their stocking. This week, Santa—in the form of President Obama and Congress—finally delivered.
For everything you need to know about ESSA, the Alliance has created a series of bite-sized materials—both print and video—that provides concise but comprehensive analyses of several key areas within ESSA, including accountability, assessments, high schools, and teachers and leaders. This information is available at www.all4ed.org/essa.