December 14, 2017
This webinar focused on the Implementing School Change framework at the center of the newly released book, Leading Personalized and Digital Learning: A Framework for Implementing School Change by Mary Ann Wolf, Elizabeth Bobst, and Nancy Mangum.

September 12, 2017
In this webinar, panelists will look through a lens of pedagogy and identify new opportunities to confer, inform, and offer feedback to position kids and teachers in a place where anything is possible. Join Kristin and Tom as they share stories, suggest strategies, and ask questions that will help viewers empower school communities for today and beyond.

May 30, 2013
This interactive video profile shows how Cajon Valley Union School District in California has paired digital learning with increased support for teachers and students to improve student outcomes, including tremendous improvement in student achievement, behavior, and engagement. This profile is the second in a series of interactive video profiles demonstrating how leading school districts use digital learning to improve teaching and learning
April 23, 2013
This interactive video profile provides readers with a real-life, practical story about how district and school leaders are working to improve student learning outcomes through the effective use of digital learning.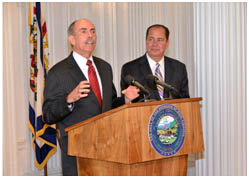 April 22, 2013
On April 17, West Virginia Gov. Earl Ray Tomblin (D) joined with Bob Wise, president of the Alliance for Excellent Education and former governor of West Virginia, to announce that West Virginia would be the first state to implement "Project 24" as part of a statewide education initiative.
April 22, 2013
Located about forty-five miles north of Philadelphia, PA, Quakertown Community School District (QCSD) has seen tremendous improvement in student achievement and engagement from implementation of a blended learning approach that combines online learning with traditional classroom instruction, finds a new interactive video profile conducted by the Alliance for Excellent Education and Public Impact.