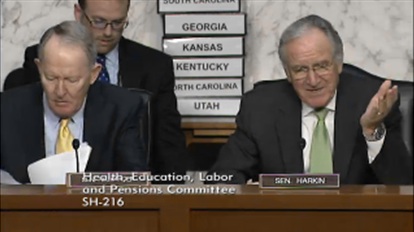 February 25, 2013
During a February 7 hearing on "Early Lessons from State Flexibility Waivers" under No Child Left Behind (NCLB), both Health, Education, Labor, and Pensions (HELP) Committee Chairman Tom Harkin (D-IA) and Ranking Member Lamar Alexander (R-TN), said Congress should go back to work on a rewrite of the Elementary and Secondary Education Act (ESEA), currently known as NCLB.
January 28, 2013
Colorado Governor John Hickenlooper (D) expressed pride in the work Colorado has done in improving early childhood education in his state of the state address on January 10.
December 10, 2012
Five states—Colorado, Connecticut, Massachusetts, New York, and Tennessee—will participate in a pilot initiative to extend teaching time by 300 hours over the school year under a $3 million collaborative with the Ford Foundation and the National Center on Time and Learning.
October 15, 2012
Although moderator Jim Lehrer of "PBS NewsHour" did not select education as one of the six segments on which the two candidates would focus during the first presidential debate, both President Barack Obama and former Massachusetts Governor Mitt Romney devoted a significant amount of time to the issue.
October 01, 2012
Nationwide, only 52 percent of black males and 58 percent of Latino males graduated in four years from the high school Class of 2010, compared to 78 percent of white males, according to The Urgency of Now: The Schott 50 State Report on Public Education and Black Males 2012, a new report from the Schott Foundation for Public Education.
February 21, 2012
Eleven states will receive flexibility under the No Child Left Behind (NCLB) Act in exchange for their commitment to raise standards, improve accountability, and undertake essential reforms to improve teacher effectiveness.
February 06, 2012
On February 1, thirty-nine states, 19,000 teachers, and 1.7 million students participated in the first-ever Digital Learning Day.
January 23, 2012
In September 2011, with the reauthorization of the Elementary and Secondary Education Act (ESEA)—currently known as the No Child Left Behind (NCLB) Act—stalled in the U.S. Congress, President Obama outlined a plan to provide states flexibility within specific provisions of the law in exchange for state-led reform efforts to close achievement gaps, evaluate teachers and principals, promote rigorous accountability, and ensure that all students are on track to graduate ready for college and a career.
Categories:
Accountability
,
College- and Career-Ready Standards
,
Colorado
,
Elementary & Secondary Education Act
,
Florida
,
Georgia
,
High School Graduation Rates and Secondary School Improvement
,
Indiana
,
Kentucky
,
Massachusetts
,
Minnesota
,
NCLB Waivers
,
New Jersey
,
New Mexico
,
No Child Left Behind
,
Oklahoma
,
Tennessee
January 09, 2012
To date, more two-thirds, or thirty-five, of the fifty states, plus the District of Columbia, have signed up as partners in support of the first-ever national Digital Learning Day taking place on Wednesday, February 1, 2012.
Categories:
Alabama
,
Arizona
,
Arkansas
,
California
,
Colorado
,
Connecticut
,
Delaware
,
Digital Learning and Future Ready Schools
,
District of Columbia
,
Idaho
,
Illinois
,
Indiana
,
Iowa
,
Kansas
,
Kentucky
,
Louisiana
,
Maine
,
Massachusetts
,
Michigan
,
New Hampshire
,
New Jersey
,
New Mexico
,
New York
,
North Carolina
,
Ohio
,
Oklahoma
,
Oregon
,
Pennsylvania
,
Rhode Island
,
Teachers and School Leaders
,
Texas
,
Utah
,
Vermont
,
Virginia
,
Washington
,
West Virginia
,
Wisconsin
,
Wyoming