5 Ways To Make Every Day Digital Learning Day

January 30, 2014 01:22 pm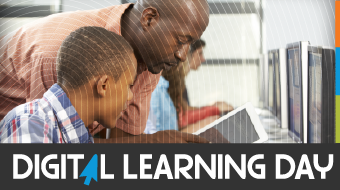 Twitter never fails to inspire me. Every time I participate in a Twitter chat, I am blown away by the passionate educators and the amazing things happening in classrooms all around the country. And that's what Digital Learning Day is all about – celebrating that, and finding ways to bring it to every classroom, every teacher, every student.
So last week's #edtechchat (listen to the BAM Radio Network story), I asked the question:
What would it take to make every day Digital Learning Day? 
After all, as we say often here at the Alliance, we'll know we've succeeded when nobody understands what the day means – when every day is a learning day.
1. Just Do It.
One of the great things about Digital Learning Day is the way it encourages teachers and other educators to try something new. The day itself can become an excuse for a teacher who is a little hesitant to take a small risk, or for a principal to encourage teachers to think outside the box. That's what Karen Collins did in Mountainview Elementary in West Virginia when she created "No Paper, No Pencils" Day.
@cyberteacher: A6 Do what Nike says… Just Do It #DLday everyday #edtechchat
@WWPscience: A6: All admins must be willing to take the leap & become lead learners & model excellence in #edtech. Practice what you preach! #edtechchat
Over and over again, I hear educators say: Don't be afraid to not be the expert. Let the students be the experts and guide the way. Don't be afraid to fail. By taking risks and using small failures as learning experiences, we model lifelong learning skills for students. And, as my #edtechchat co-moderator and creator Tom Murray said, "let's get out of the way and stop being roadblocks to resources."
2. Shift Your Culture
@Learn21Tech: A6: create a culture of innovation, reward risk taking, make it easy to use tech, give kids devices and PD for Ts #edtechchat
After this chat, I started to feel like Digital Learning Day is more than just a day – it's a mindset! Educators who embrace digital tools are also the ones who are in and have created cultures where innovation and risk taking are supported, and teachers are comfortable and able to support and learn from each other. It's the message that is behind the Alliance report Culture Shift: the world is changing, and the culture of learning must change to meet the needs of the world we are living in now.
@EmilyGoranson A6-Create an environment where all (Ts & Ss) feel comfortable trying, failing, and inquiring…we all learn together! #edtechchat
3. Ask The Students
This year, Digital Learning Day is highlighting the student voice more than ever before. In the national celebration, we'll have students up on the stage with teachers and leaders. We've got some great videos showcasing how students are leading their own learning. And we'll have a series of live Debates on Air with students debating really exciting and important issues they face in the digital world of today. If we want students to take responsibility for their learning, be engaged in it, shouldn't we start by asking them?
@thomascmurray: Ask students what they think about Digital Learning. Doesn't their voice count? #edtechchat
Offer students ways to contribute by showcasing their favorite learning tools or apps. Let them demonstrate their skills and show off what they can create. Ask them how they would like to see technology used for learning, or what devices they prefer for different kinds of content. Start a dialogue, and keep it going.
4. Focus On The Learning
I'm not going to lie; part of the fun of Digital Learning Day is what I call the "ooohshiny" factor. There is just a sense of "WOW!" when you see a cool new device doing something you've never seen before. And, we can't discount that. Sometimes the "oooohshiny" is what gets a teacher to try something new, or gets a student to pay attention.
But we all know it's not about that. The educators in #edtechchat, and that I've talked to around the country, all say that first and foremost, we have to focus on the learning.
@iplante: Make Tech logical, not forced…shouldn't replace what is good teaching, but enhance and support what is good learning as needed… #edtechchat
Good digital learning starts with the LEARNING. It starts with a look at instructional goals and challenges, and what it would take to reach those goals. That's what Project 24 is all about, and it's what every digitally savvy educator will tell you. Even if they are raving about their favorite app or collaborative tool.
@EGHSPrincipalRI: A6 Focus on learning #edtechchat
5. Learn From Others, Then Share! 
@carapmoore: A6 take 3-5 minutes each day to share app ideas and share/tryout  devices. Learn from the KIDS! #edtechchat
Digital Learning Day is about creating an opportunity for teachers to learn from each other. And it's about sharing what is working, what's inspiring students, what's taking learning to new levels. If we want every day to be Digital Learning Day, we need to see more and more teachers, librarians, principals, and others all having more opportunities to connect and collaborate. All of the nearly 1000 events that will be taking place next week are about that sharing and learning.
So share with us! Tell us about your event, no matter how big or small. Take our pledge to show your support. Watch our live webcast and explore the virtual conference – and share what you've learned! Tweet what you're doing using the hashtag #DLDay. Post pictures and videos using #DLDayLive! Check us out on Facebook too. And together, we can make every day a Digital Learning Day!