The Daily Dish: Attendees Talk Education Technology At ISTE 2015
Posted:
June 30, 2015 03:12 pm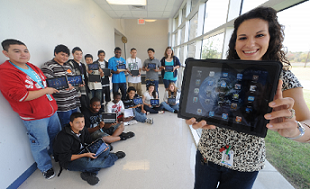 The Daily Dish digs deeper into one of the day's top news stories on K–12 education. Make sure to add High School Soup to your RSS feed for all the latest updates and follow the Alliance on Twitter at @All4Ed for more education news.
---
Teachers, policymakers, educators, and others with an interest in technology in education have gathered in Philadelphia, Pennsylvania for the 2015 International Society for Technology in Education (ISTE) Conference & Expo. While technology is all the buzz among much of the conversations and workshops at ISTE, some in attendance are stressing the importance of other factors that contribute to successfully integrating technology into the classroom.
Ed Tech K-12's D. Frank Smith summarized Sunday's opening keynote from broadcast journalist Soledad O'Brien, in which O'Brien asserted that educators should look at technology in the classroom as  "a means to an end — not an end itself." Smith writes that during her speech, O'Brien explained to those in attendance that technology can "expand students' horizons by immersing them in different vocational opportunities," but those possibilities cannot happen without widening access.
Read Entire Post