19 Ways to use blogs with students (#FutureReady)

November 12, 2014 03:00 pm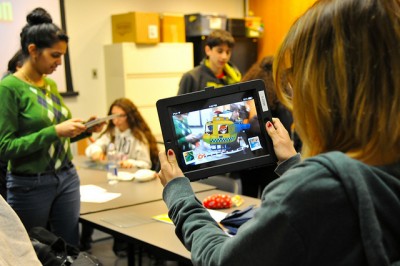 The following blog post is part of the Alliance's Future Ready blog post series. The Future Ready initiative working to support school district superintendents and their leadership teams on district-wide transformation. This blog was written by Starr Sackstein, New York director for the Journalism Education Association. It originally appeared on Sackstein's own blog, Starr Sackstein, MJE, NBCT
---
Ever want to try out blogging with your students, but you weren't sure how? Well it's never too early to start. Currently my students are using Blogger (for the ease of its connection with Google) and the kids have taken to it much better than I would have thought. Last year, I tried it out with my advisory, a test case if you will. Just one class, specifically chronicling their senior year of high school and write through their transitions. It was a successful and so this year, I wanted to push a little farther.
Here are some suggestions for all ages and content areas.
For teaching digital citizenship: in this age, students need to be taught how to be appropriate digital citizens. The blog is one way to help students navigate this landscape. Seeing how others use blogs by reading them and commenting on them, provides students opportunities to practice these essential skills. Blogging in tandem with social media, offers students valuable time to experience and develop their digital footprint.

For homework: Either as a space to post homework and have students answer or have a private space for each student who does their actual homework right to the blog.
Class recaps: Class blogs are a great help to students, so why not have a rotation schedule where a student posts a daily recap to the class blog or each individual student can do daily recaps in a manner that suits him/her, such as a bulleted list or a paragraph or a diagram.
Weekly check in/reflection: at the end of each week, why not ask students to think about their learning. What was new? How does it connect with what they learned before? Are there cross-curricular connections worth mentioning? Which standards are they working on?
Conversation continuation – if you have a class blog, students can continue discussing class learning that gets cut off by the bell. This can be an opportunity to clear up lingering questions and or push the envelope extending learning outside of school. Kids can do more research, post textual support and even connect with a Twitter Class hashtag to get more people outside of class involved.
Online diary of learning: Much like the weekly reflections, you can offer something a little less structured. Give students a space to write about their learning online, a space where they think about their days and write about them in a meaningful way as a part of a routine. This could also be a great place to set goals and track progress of those goals.
Creating character/historical figure blogs – Instead of just doing reflections, teachers can use the blogs as a space for content learning. Students can create blogs as fictional characters and/or historical figures and blog as them while they learn. How would this person speak or act? This a great forum for synthesis projects that incorporate technology and research and creativity in a meaningful way.
Timelines or chronological coverage of historical events and their impact on the world or a particular culture. Students can write posts about the specific events and track history through pictures, facts, and maps to help students share information from the time. It can be a scrapbook from a person's perspective living through the specific events or just acting as a historian showing multiple sides to each experience.
Current Events – students can track particular coverage of current news or how different news outlets cover the same happening. Students can note this from different angles. For a government or economics class, the clippings and commentary can be focused on those topic. For a newspaper class, students can use the news writing at author's craft model tracking specific elements to improve their own writing.
Research for interdisciplinary projects – Students can either track their progress on the blog, post articles with annotations as they research, draft and seek feedback or they can gather information in one space that allows them to write their papers more seamlessly. This can also be a great way for teachers to provide comment feedback throughout the process. Students can also collaborate with other students while they work on this blog as a blog can have multiple authors posts.
In response to reading/reaction – literature response (Common Core Implications and support) This is something I plan on trying this year. In lieu of doing weekly reaction papers that students submit to me via Google Documents, I'm going to have them maintain a blog where they do their weekly reactions to literature including poetry. Instead of just having me respond to their responses, I'm going to open it up to the whole class community. Students will be sharing their reactions and then having a dialogue with other students that is text rich and engaging.
Fanfiction – students can take literature they love and write alternative endings, add depth to what is already there and or develop secondary characters. There are many fanfiction sites now and it promotes creative writing as well as reading.
For word problem explanations in Math – Math teachers can also use blogs in their classrooms to help students with their process. With the Common Core and other state standards using word problems and explanations of how students arrive at answers as a part of showing work, what a great way to track progress throughout the year. Students can explain how they arrived at answers and help each other as they learn and practice new math topics.
Mathography – students can track their learning or growth through explanations of class. Since many kids have challenges with math, this can be a way to express the fears and challenges and track progress. Students can generate questions and buddy up with people in the class that have a better understanding of similar concepts.
For lab write ups in science or keeping track of the scientific method – Science teachers can allow students to do the scientific method on the blog, encouraging students to explore the world they live in and keep records of the hypotheses they develop over time. Blogging both about their ideas and their findings. Classes can comment on similar or different findings which can spill into and out of class.
Create a field guide for science classes – perhaps students are learning about rocks or plants, they can keep records of specimen they find and write the research they find about each one. They can add pictures of where they find their pieces to add depth to their field guide.
Language labs – Students can use blogs to practice their foreign language skills making conversation and writing in Spanish or French or any other language. They always say that thinking in another language is the true mark of proficiency, so practicing with writing can help get students to that place. Why not pair students up with native speakers of that language who are practicing English? They can be blog pen pals.
Playlists – for music class, students can generate playlists that discuss different musical properties and elements as well as talk about different kinds of music. For a theory class, students can discuss how new music connects back to older music through progressions. Or they can write their own music and generate playlists that way.
Art portfolios – students can generate a place to maintain their artwork and reflection about different work that they complete or collect artwork that speaks to them in a particular style or by a particular artist.
How do you use blogs with your students?
Starr Sackstein is New York director for the Journalism Education Association and the author of the book Teaching Mythology.