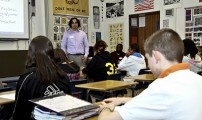 Posted:
April 24, 2014 11:52 am
The following post was written by Donique Reid, a policy and advocacy intern at the Alliance for Excellent Education.
In January, individuals crowded into Frederick Douglas High School in Maryland to listen as federal officials praised the school district for reducing student suspensions. The event came shortly after the US Departments of Education and Justice issued new federal guidance around school discipline policies. The new policies emphasize restorative justice and aim to end practices that often disproportionately discriminate against students of color.
In an address to the nation, Education Secretary Arne Duncan, acknowledged that under current school discipline policies across the nation, students of color and those with disabilities are far more likely to be suspended or expelled than their white counterparts. According to the Civil Rights Data Collection on school discipline, African American students are three times more likely to be suspended than white students, even when they commit similar offenses. The new guidance encourages states to amend policies that target specific students and to abandon zero-tolerance policies that suspend or expel students, even on their first offense, in schools.
Encouraging districts to focus on prevention and supportive approaches to increase student engagement and, ultimately, keep students in the classroom, will lead to improved school climates and improve student learning outcomes. But not everyone seems to agree.

Read Entire Post